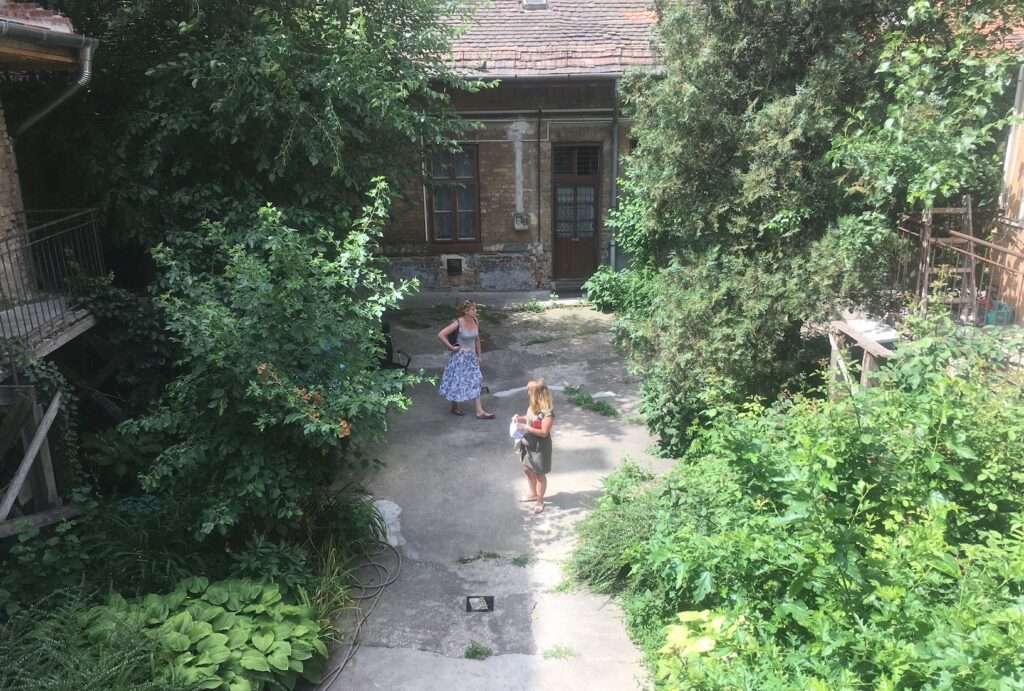 Building an alternative real estate developer for the commons (Hungary)
Category: Public Space
Community Members: Collective
Type of grant: Renew [ 20.000 € ]
Year: 2020
1. Who they are
• Rákóczi Collective (RC): a network of groups aiming to establish rental-based housing cooperatives in Hungary. They have a first house, and are now searching for a second, larger property – thus they have important experience from the field. RC is also a member of MOBA Housing SCE. Building an organization that can quickly acquire properties has become crucial for them to be able to scale up.
• Gólya Cooperative: a cooperative which manages and owns a 1000 sqm building with a bar, a community space, and smaller workshop and office spaces for 10 progressive collectives. They are currently thinking of how to transform the building into a space owned as a commons. One of the aims of the project we propose is to facilitate this process, and make this existing building (which is very unique in the Budapest landscape of grassroots organizations) into an exemplary space of collective ownership.
• GÉP construction cooperative: GÉP grew out of Gólya through the process of renovating Gólya's building, and presently works as a construction and maintenance cooperative. They will be the construction and maintenance arm of our initiative.
• Solidarity Economy Center (SEC): the mission of this group is to connect various initiatives of solidarity economy, and to help them to scale up and become more robust. They will bring into this project their connections and expertise in the solidarity economy landscape of Hungary.
• Periféria Center (PC): a research and policy collective where the lobbying work, and financial and legal planning related to the alternative real estate developer will take place. They have a history of supporting RC and other nonprofit housing initiatives.

2. What they did
The aim of the project was to establish a new, non-profit, anti-speculative and democratically managed organization – an alternative real estate developer – in Hungary, which can support various solidarity economy initiatives' access to physical space (including, but not restricted to creating affordable housing solutions). After a lengthy and thorough preparatory phase, the Alliance for Collaborative Real Estate Development (ACRED) was legally registered by the Hungarian Court in October 2021.
With the formal establishment of ACRED, the organization is capable of carrying out complex, real estate-related projects in a non-speculative, democratically governed way.
The organization was able to inspect dozens of buildings potentially suitable for developing the next collectively owned, affordable rental housing cooperative. Through this process, three dozen potential cooperative members were contacted and engaged in various collective preparatory activities.
Turning the building of Gólya Cooperative formally into a commons – maintained by ACRED – is a significant step: it is the first collectively owned & managed building within a solidarity economy ecosystem in Budapest, which is shielded from the market.
Partly with the help of the international networking activity performed throughout this project, the collective became part of an ERASMUS+ consortium aiming to continue international knowledge exchange in the field of alternative real estate development.
3. Why is this relevant to the FundAction community?
Since there are many organizations in the FundAction community dealing with the commons, main learnings can be interesting in terms of how it is possible to expand the notion of the commons to real estate. The organization will set up a website (also in English) and a handbook that will summarize the organizational structure, vision and aims that can be useful for other organizations.