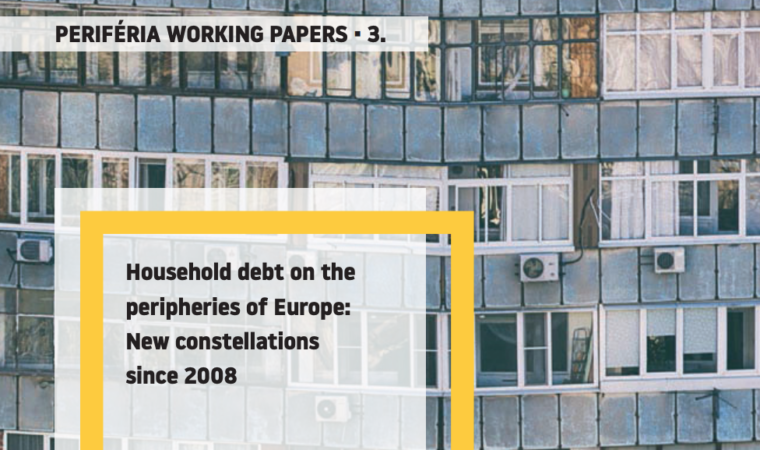 Challenging the household debt in Eastern Europe
URL: https://www.periferiacenter.com/
Category: Alternative Economies
Community Member: Periferia
Type of grant: Rethink
Year: 2019
1. Who they are
Periféria Policy and Research Center is a politically engaged collective working on issues of
housing, real estate, spatial equality, formally established in early 2018. The group has been working together in various setups on urban and housing issues for almost ten years. The main themes in Periféria Center are: the relationship of state and market in the field of real estate development; the financialization of housing; gentrification and displacement; and housing cooperatives in the broader context of developing the commons. Periféria acts as connectors between organizations and individuals in these various fields, and believe that doing translating work on the interface of research, market actors, public policy, civil society and political groups and the wider public has significant added value in itself.
2. What they did
TWith the support of the Rethink Grant 2019, in June 2019 WRR organized an Advocacy Training in Brussels, aiming to provide twenty participating women with concrete tools on how to advocate for themselves and their communities. Similar training has been previously organized in Athens, Mytilini (Lesvos), and Copenhagen. The workshop session topics included insights into relevant legal frameworks, into methods for breaking stereotypes, as well as rhetoric tools for successful storytelling. Child-care and prayer facilities were provided throughout the day. The two-day training equipped participants with knowledge on how to influence policies which impact women refugees on different facets of their life. Guests made the most of the childcare facilities provided by WRR, who took care of six to twelve children. In order to further nurture the seeds planted throughout the training, a Facebook group was created for the training participants. The group will be further used to continue the discussion started, organize events, offer advocacy or other opportunities for empowerment, etc. It represents a safe space where we respect everyone's identity, where we can feel free of judgment or harm, and where we know that the information or experiences shared will not travel beyond this group.
3. Why is this relevant to the FundAction community?
Democracy and inclusion cannot be achieved without the means for economic participation in a community. This project is relevant to FundAction's values because it addresses an issue that is invisibly gnawing away at a large chunk of European society, creating hopeless traps of poverty in economically relatively prosperous countries.
Links