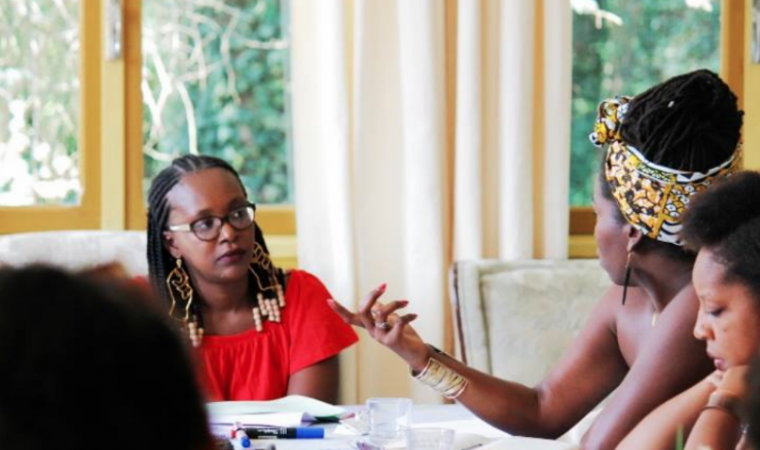 Dora Milaje Summer Camp (France)
URL: www.facebook.com/mwasiafrofemparis
Category: Feminisms and oppressed genders, Democratic Innovation
Community Members: MWASI – Collectif Afroféministe
Type of grant: Renew [ 20.000 € ]
Year: 2018
1. Who they are
MWASI – Collectif Afroféministe has 13 active members, including women who are cisgender, transgender, women who are Black, with an average age of 21-33 years old, who are fighting for their emancipation as part of an intersectional critique of the capitalist, hetero-patriarchal and racist system. MWASI members' actions are diverse, ranging from street demonstrations and distribution of food and personal hygiene products in migrant camps to organizing and participating in knowledge-sharing events. They take it to the streets, we go to demonstrations, and we also mobilize on social networks. All their writing is tied to street activism practice.
2. What they did
They planned an afro feminist summer school in France for 55 black womxn during the Summer 2018. The idea was to extend the work they had been doing, to share knowledge and practices. As they are Paris based, they wish to see more afrofeminist collectives in France and Europe or more black womxn with afro feminist praxis in all the anti-racist/black organisations for racial justice. It was a 3 days, seminar, training and workshops, animated by black womxn activists. This afro feminist summer camp aimed to bring together grassroots activists and Individuals to train, share, strengthen and build their skills as well as more empowerment toward their struggles and future actions. This afro feminist summer school was not restricted to activists. Rather, it aimed to engage the newer generations on the issues that affect black womxn and black communities. This project was in line with the traditions of the black feminist radical tradition. Rethinking who engages in activism is one of the challenges of this summer school.
3. Why is this relevant to the FundAction community?
You can find more information about Mwasi Collectif at their Facebook page, their Instagram profile, or their Twitter account.