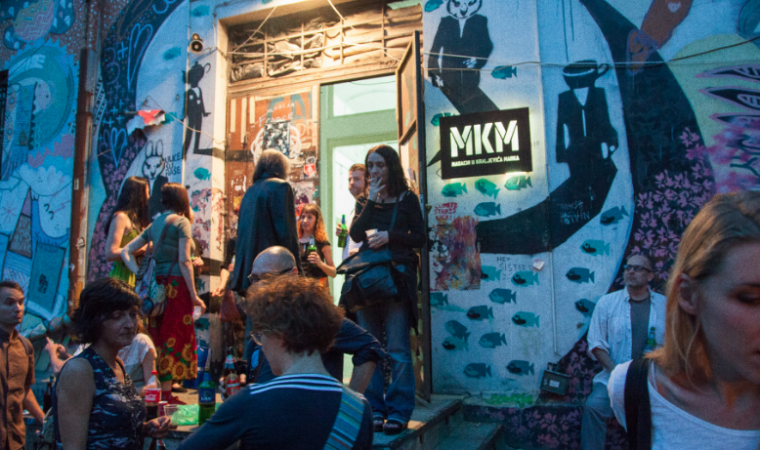 Renew Magacin – social and cultural center (Serbia)
URL: teh.net/member/magacin-cultural-center
Category: Alternative Art and Media, Democratic Innovation
Community Members: Independent Cultural Scene in Serbia
Type of grant: Renew [ 20.000 € ]
Year: 2018
1. Who they are
The Association "Independent Cultural Scene in Serbia", is the key representative of the interests of the civil society in the area of culture and art in Serbia formed in Belgrade in 2011. As a joint platform of organizations, initiatives and individuals, it currently gathers 84 members. Those who are based in Belgrade are using a former warehouse space in a public property called Magacin. The space has been a cause of dispute since 2008 between the city of Belgrade's authorities and CSOs active in the field of the independent cultural scene to which the use of that space was granted.
2. What they did
The Renew grant was devoted to actively advocating for a solution to the dispute over that space, through negotiations with city authorities, as well as collaborative writing and public debates and statements about the new managing and governance model for that space and its program. This process is not yet finished, but evident progress has been made in developing a program for use of Magacin's space, in its management, and in the grouping of collectives and organizations around one common project. Less than one-third of the whole space of Magacin is in use, and the rising need for it is highly noticeable. They refurbished and set-up as much of the space as possible. And parallel to that they advocated for a new type of institution based on the civic-public partnership.
3. Why is this relevant to the FundAction community?
Self-managed cultural centers usually are a cultural lung for neighborhoods and cities that host them. Magacin is a very special place in Belgrade, they organise dozens of activities monthly and it's an intersectional space in which citizens of different ages, expertise, and professional backgrounds gather. Its political nature makes it very important for the community of FundAction, where there are activists who work with self-governed spaces. Their commitment to the development of models of governance that mix public and commons ownership is really inspirational for anyone working on these issues.