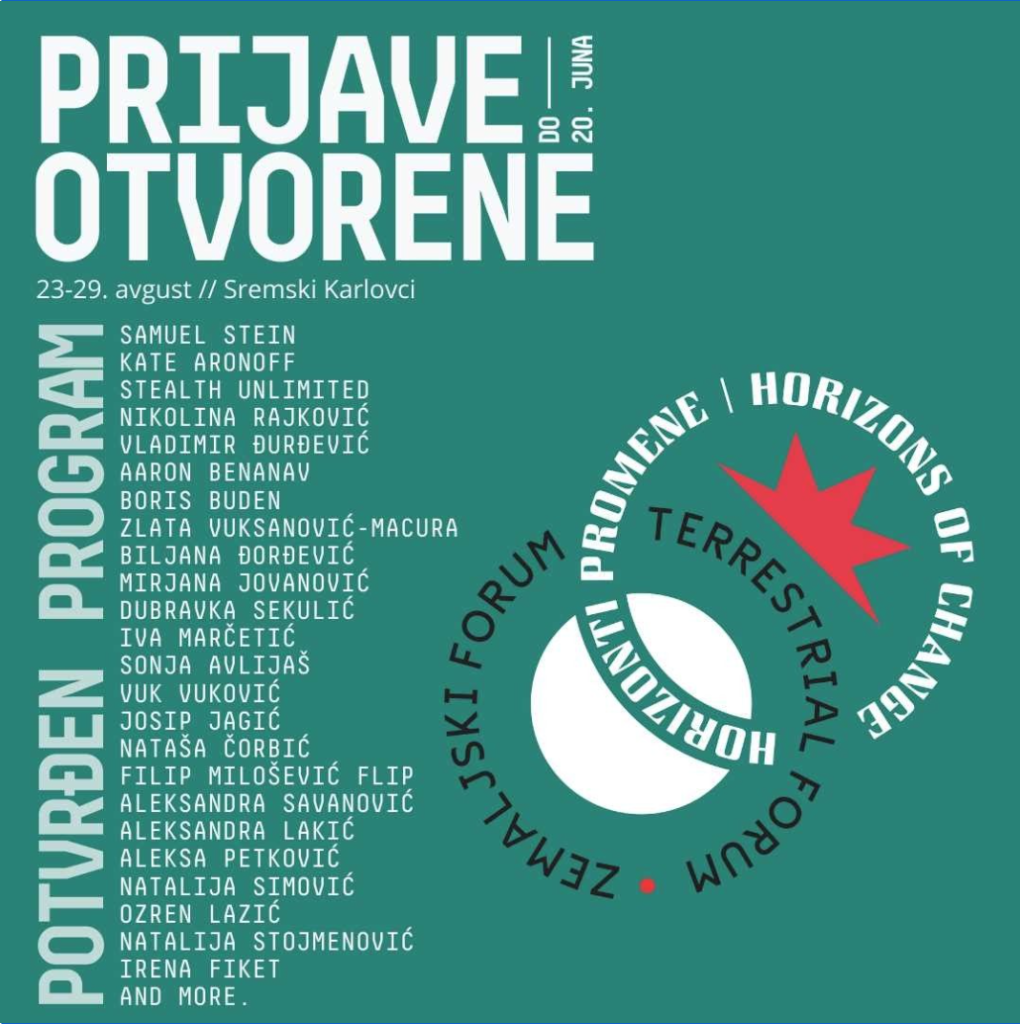 School of Social Change (Serbia)
Category: Democratic Innovation and Civic Education
Community Members: Ministry of Space
Type of grant: Renew [ 20.000 € ]
Year: 2020
1. Who they are
The Collective Ministry of Space was established in 2011, aiming to activate unused spaces through
direct action and municipal negotiations. Over time, the organizational mission evolved to encourage and
foster citizens' participation and mobilization in defining public interest in urban planning and resource
management, hence fighting for democratization of local decision-making. They also initiated, organized
and led multiple participatory processes and research studies in the area of urban commons, housing
and urban planning. They made numerous policy proposals for higher citizens' participation in urban
development and resource management.
One of the important missions in their work is in cooperation with other organizations and individuals that come from diverse sectors and professional backgrounds. This has often resulted in the creation of different entities that have grown out of mutual cooperation and have become valuable participants and creators of new alternative solutions or struggles for change. They also have close cooperation with many emerging local community groups that fight to protect their right to the neighborhood. These collaborations have been mutually beneficial in learning and sharing processes toward systemic change.
2. What they did
Over the period of three months (from January to March 2021), they organized a Forum program that consisted of 3 main sections: 
Horizons of Change – introducing and critically reflecting on different (global) theoretical concepts or paradigms of social transformation, such as democratic socialism, Green New Deal, post-work or a feminist city, in a form of lectures;
Thematic Modules, divided into 3 simultaneous lines: affordable housing, democratization of public services and resources, and just energy transition, in forms of lectures followed by discussions featuring representatives from the current domestic and regional activist collectives.
Workshops as a more interactive format through which we were looking to work on the narratives and counter-narratives in the context of polarized society, as well as the solidarity infrastructure crucial for wider mobilisations and strategies of self-organization. 

In order to co-create the programme with all the stakeholders, we have formed a Programmatic Board, consisting of their representatives. Programmatic Board included:
Vedran Horvat, Institute for Political Ecology, Croatia; 
Gazela Pudar Dasko; Institute for Philosophy and Social Theory, Serbia; 
BIljana Djordjevic, Don't Let Belgrade Drown, Serbia; 
Ivan Velisavljević, Party of the Radical Left, Serbia; 
Paola Petric, Heinrich Böll Stiftung, Serbia; and 
Gordana Bjeletic, Independent media Southern News, Serbia. 
The final program of the Forum is available here and in Annex 1. All the information on the programme content providers (lecturers, workshop facilitators, discussants) and their sessions are available on this separate page of our website. In total, 31 lecturers and workshop facilitators were invited (from Serbia, Croatia, USA, Netherlands, Great Britain and Germany), while there were 25 discussants/representatives of regional activist initiatives to participate in Thematic modules. 
Having in mind that the primary language of the programme was BHS, which was explicitly stated in the call, they have received nearly 100 applications from Serbia, Croatia, Bosnia and Herzegovina, Montenegro and Kosovo. The selection committee consisting of IUP members has selected 20 participants to be attending the Terrestrial forum. 
In total, the Forum has gathered 130 participants from 12 countries.
3. Why is this relevant to the FundAction community?
With this project, the Ministry of Space Collective aimed to contribute to strengthening the relations and cooperation between different relevant actors in the local context, in order to build the ecosystem that could bring about the ever-needed political and social transformation. They understand such a process needs continuity and thus we have initiated a biannual gathering event – Terrestrial Forum – that would provide a space for learning, exchange and planning of cooperation of various progressive civic and political actors in Serbia, together with counterparts from the Balkan region and Europe.