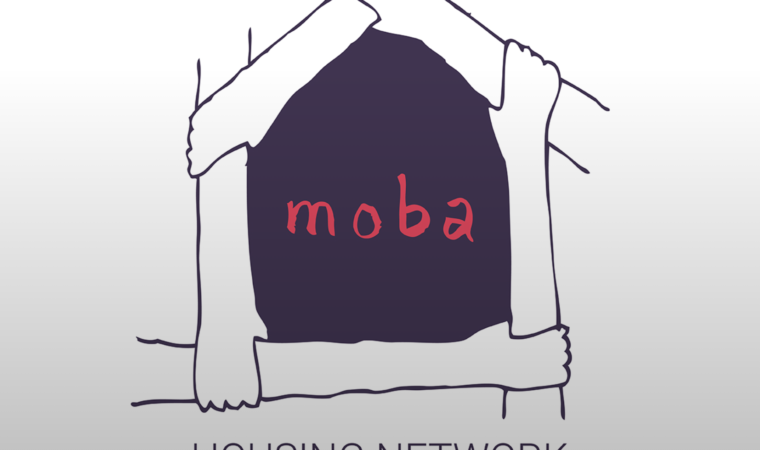 European Cooperative Society MOBA HOUSING
URL: https://moba.coop/
Category: Public space, housing & right to the city
Community Member: European Cooperative Society MOBA HOUSING
Type of grant: Reneww
Year: 2020
1. Who they are
The European Cooperative Society (SCE), founded in 2020, provides a legal form for transnational cooperation and aims to facilitate cross-border activities amongst its members, active in the field of housing emergencies. It is constituted by four founding members (Cooperants, according to the Statutes) – Pametnija Zgrada from Belgrade, Zadrugator for Ljubljana, Prvni vlaštovka from Prague and Otvorena Arhitektura from Zagreb – with support of donations from FundAction and the Swiss Housing Cooperative ABZ, which have provided the required initial capital. Apart from full membership (Cooperants), MOBA includes supporting members (in the Statutes formally referred to as Investors).
2. What they did
The decision for MOBA to register as an SCE was taken with the aim to formalize the loose network that existed since 2017 and to provide a legal entity through which its members can pool their resources, share their expertise and access the services and financial resources necessary for the development of housing models on a regional basis. Since March 2020, they have started preparing the ground for the MOBA Housing Development Fund, which will be an essential integral part of the SCE. At the end of May, the first SCE's assembly took place. Finally, they prepared the Membership Guide, a practical introduction to the community-led housing approach pioneered by MOBA
3. Why is this relevant to the FundAction community?
The membership guide has been drafted collaboratively, and is now available to assist the enlargement of the MOBA member pool and beyond. It is intended to support new members with setting up a community-led housing project and outlines what support and options are available to MOBA members. The guide contains two parts: the "how-to" section outlines MOBA's approach, instruments and the governance of its legal entity; while the second section provides background information on why MOBA came into existence, its ambitions, and the housing context in the Central and South-Eastern Europe.
"Aware of the decreasing affordability and the commodification of housing taking place globally, with our region of Central, Southeastern and Eastern Europe (CSEE) hit particularly hard by the housing crisis, we – a group of pioneering housing initiatives – have joined forces to establish the European Cooperative Society MOBA HOUSING SCE. We believe that our countries are in urgent need of new actors and new models of housing provision as well as innovative approaches to housing financing. The name MOBA comes from a term used in South Slavic languages to refer to the widespread custom of mobilizing mutual help. We mobilize to build an institutional framework rooted in cooperative principles, in order to jointly enable access to affordable housing and provide durable homes to communities region-wide." (from MOBA Housing SCE Statute's Preamble)